Rejection is hard to take. You spend hours, blood, sweat and tears, pouring words out of your soul to create your masterful romantic manuscript, only to send it off and after waiting patiently, (or if you're like me, not so patiently!) to receive a thank you, but no thank you.
I've been writing now for about three years, and I've spoken to many published and unpublished authors, all who have said rejection is part of the business. And no mistaking it – becoming a published author is a business and should be treated like one. Last year I took the plunge and finally pitched a manuscript at the Romance Writers of Australia conference, I received a request for the full manuscript and dutifully sent it off a few days later.
I waited and waited. I followed up, and then about 8 weeks later I received a very pleasant, and encouraging, No. I won't lie, at the time I was upset, and allowed myself to wallow for about five minutes, (ok, internally I maybe wallowed longer than that) then I got on my treadmill and I sweated my way into a more positive mood. I decided this was to be a stepping stone for me on my road to publication. Which is what it is.
Very few authors gain a publishing contract on their first submission. What is important, is how you view the rejection and what you learn from it. Writing romance is a creative craft, and the best authors I know have all said it's a continuous journey, one where learning is constant and necessary.
For my part, I set aside the rejected MS and decided to work on a smaller project. A friend had shared an anthology call out – themed Kissing in the Rain – Springtime in America. I love the idea of kissing in the rain, running in the rain; really, I just love rain, so this was a perfect theme for getting those creative juices running.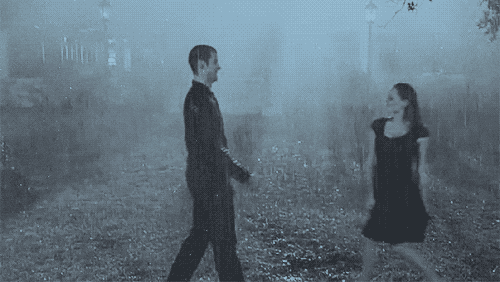 Image courtesy of giphy.com
And I'm happy to say that project has received a more positive response.
So: I've gone out and done a little digging on what others think about rejection – I've found this quite interesting and hope you do too. (Please note I have included only constructive comments here – I figured 'drink copious amounts of wine and eat chocolate for three days' was a given, right?)
-

Were there specific comments? Are they true to your voice and your branding?
-

Persistence is key. Writing is a long journey, multi published authors all say this, the first deal does not mean instant success for life. It may do for a select few, but for most of us, turning writing into a profession means a lot of work. And persistence. Did I mention persistence?
-

Accept the fact that though you love your work, it may not be suitable for a particular publisher, and that doesn't mean there is anything wrong with it. Publishers reject manuscripts for a multitude of reasons that are outside your writing control:
o

Their publishing calendar is full
o

They've just signed something very similar
o

The sales dept has said sales in that genre have tanked
o

The timing was just plain wrong.
-

Just keep writing. Write something new but keep writing.
How about you? Have you any fabulous suggestions on how to handle rejections in the world of romance writing?



I love to love...

starting a new story idea.
I love to laugh...

at myself. Yes, I do this quite often.
I love to learn...

how many rejections other amazing authors had before they became multi-published. Really, go Google – it'll make any rejection feel loads better.