by Jayne Kingsley
I love weddings. The dress, the music, the ambiance… put a wedding dress on the cover of a book and I'm guaranteed to buy it. There's just something intrinsically romantic about it to me.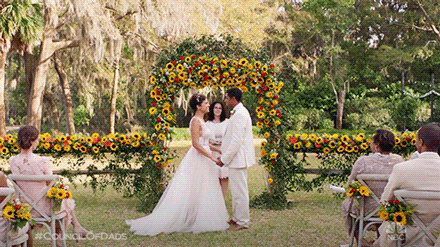 Image Credit: Giphy.com

I've recently finished writing a book for an ongoing series called the No Brides Club. I believe my release will be book number 16 in the series, so I guess you could safely say there are others out there that also share my love of wedding-related romance reads.
(Shameless self-promotion alert! Please feel free to check out the books in the series Here)
Image Credit: Amazon

So today—I thought I'd share some of my most favourite wedding related books. Let's kick off with my all-time favourite:
Nora Roberts Bride Quartet Series
"Series blurb:
Childhood friends Mackensie, Parker, Laurel and Emmaline have formed a very successful wedding planning business together but, despite helping thousands of happy couples to organise the biggest day of their lives, all four women are unlucky in love." (Amazon)
I mean, who doesn't love these books? Four amazing friends, starting a business together—a childhood dream come true. Bonus, they each fall in love with their perfect men. I stumbled across these books when I was planning my wedding so they hold a special place in my heart because of that, but honestly, they are the type of books I can always pick up and get lost in, no matter how often I've read them.
Catherine Bybee Weekday Brides Series
A premier matchmaking firm where love isn't part of the deal. Until it is. Catherine Bybee has been a long-time favourite author of mine: part of my list of one clicks. Her books just draw me in. I warn you though; they aren't a pick up and put down type of book (at least not for me). I always ensure I've got a day carved out before I start one, otherwise I know I'll be cranky if I get pulled away from them. Bonus: there are seven books in the series.
Image Credit: Amazon.com

Denise Grover Swank The Wedding Pact Series
"Series blurb:
When Megan, Blair, and Libby were in the fourth grade, they swore they would get married by their thirtieth birthday and include the other two in their weddings. Now, coincidentally, twenty years later, two of the women are engaged and have weddings within months of each other in their hometown of Blue Springs, Missouri. What they all forgot was the fortune teller at a local festival who warned all three their weddings would be a disaster." (Amazon)
These are fun, delightful, humourous contemporary romances that will have you going back for more. I mean, what's a wedding without a little drama?
Image Credit: Amazon.com

So these are some of my favourites. I'd love to know yours if you have any?
I love to love... playing barbie weddings with my two daughters.
I love to laugh... at the chatter that occurs during the weddings (there are many people coming down with a virus!)
I love to learn... how bees make honey. Nothing like a rainy weekend to bring out the educational video's.