by Enisa Haines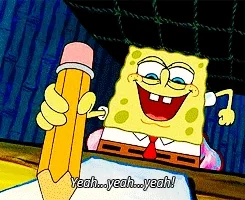 Image courtesy of: giphy.com
When I first started writing, I wrote by hand. I was immersed fully in the stories, my imagination let loose, and the words flowed easily from my pen to each page. Sure, there was text I thought could have been better, but no part of me ever thought to criticise what I had written.
I grew older. The obligations of university, work and life crept in, stealing time away from writing. But the stories didn't leave. They niggled at me, pestering for release until I caved in. I was going to write again.
But writing by hand is slow. Typing is faster. So I typed...and a strange thing happened. It began when I first used a typewriter, got worse when I swapped the typewriter for a computer keyboard.
This voice in my head, the
inner critic
- also known as
every writer's internal enemy
- appeared. A whisper that soon became a roar. Criticism, ever present, always harsh:
"That word is too simplistic. The phrase sounds silly."
"That's not a grammatically correct sentence. The sentences don't flow into each other."
"Do you really think anyone will want to read this? It's nowhere near the standard of published authors."
"Why do you do this to yourself? You are so not good enough."
Image courtesy of: pixabay.com
I didn't like hearing that inner critic. I had to make it stay quiet. So it only followed that I had to write the perfect word, sentence, paragraph, chapter. The critic was silent then. But this way of writing, a vicious cycle of write, edit, write, edit, as I sought perfection, played havoc with my creativity. My stories did not progress.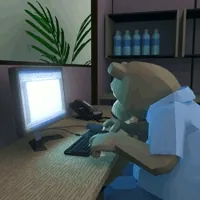 Image courtesy of: giphy.com
I was frustrated, living my own version of
Groundhog Day
, and then a breakthrough came. A writing course that promised to unlock creativity. Wow, the course sure lived up to its promise, showing me how. Get away from the keyboard, relax, pick up a pen and the words will come.
Authors
JK Rowling
,
Anna Campbell
and
George RR Martin

each write by hand, I learned. If they could do it, well, I wrote that way once and I would try it again. The words came,
slowly at first and then faster. My creativity was back, the inner critic gone.
Image courtesy of: pixabay.com
There, right there, was the answer I had searched for in freeing my creativity.
Writing by hand
. This technique allowed me to:
put a leash on my inner critic, taking away any power to interrupt or the right to criticise as I wrote
let go of the desire to look at words as I wrote them
stop feeling the need to change them if they didn't 'feel' right
relax, focus and be 'in the moment' and simply write down the words that rush forward, consuming my thoughts
Though it may not work for everyone, it works for me and my creative muse is all the happier for it.
Where before I struggled to get the words out, now with a pen in my hand my muse is ready and the words flow into a story. Not a perfect draft at first run, but one that lets the faults stay until later editing, and I'm all the happier for that.
How about you? Have you tried or gone back to writing by hand?
I love to love
that writing by hand silences my inner critic.
I love to laugh
at Gogglebox. A truly amusing TV show.
I love to learn
how other writers write.