By Jayne Kingsley
One only had to walk into their local grocery store during the month of October to know that Christmas was fast approaching. Halloween merchandise made a gallant effort to hide the Christmas paraphernalia (for a while) but we all knew it was there.
I'm one of those people who secretly rejoiced the moment I spotted the first glint of tinsel hanging from the shelves. My last writing jaunt to my local café had an additional spark with Christmas carols playing not so faintly in the background.
I am a Christmas tragic, in all my sparkly red and green glory, and I'm not afraid to say so.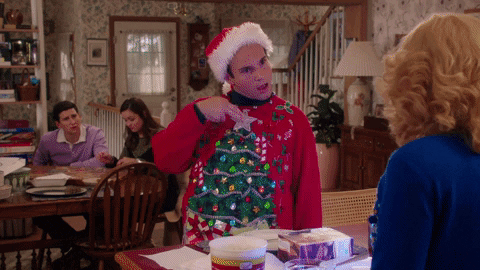 Image courtesy of Giphy.com

My writing desk sports a mini Christmas tree (because whilst it amuses my husband ever so much to listen to me sing carols and decorate our kids fairy garden with tinsel, we have a rule that we don't put the actual tree up until Dec 1). I have a sparkly reindeer that's made its way to our dining room table and did I mention my website has snowflakes falling oh-so-delicately on it?
Since having kids we've developed a few family Christmas traditions. Our kids are young and still in that magical stage where Santa's name is whispered reverently, and a single spotting can cause mass hysteria, s
o I thought I'd share a few of our Chrissy traditions with you on the blog today – to further along my Christmas cheer!
1.

We put the tree up on December 1. It doesn't matter what day that falls on – we cook something super tasty for dinner, pop open a bottle of champagne (apple juice for the kids), play carols and we decorate the tree as a family. We have little wooden stars with each of our names carved in them and a whole range of handmade decorations by the kids. It's a special evening that I look forward to every year.
2.

Christmas craft with my kids. Last year we built a Christmas village and as a special gift to my Instagram and FB followers I did a Christmas count down of watercolour sketches in the lead up to Christmas day. This year we're colouring in Christmas cards to send to our loved ones and adding to our Christmas Village.
3.

We watch EVERY SINGLE Christmas movie available! Octonauts and Paw patrol Christmas rescues, Barbie helping Santa, every Hallmark movie I can get my grubby little hands on. And of course Love Actually on Christmas Eve. The cheesier and happier the movie – the better! So long as there's some Christmas element, it's on our tv.
4.

Gingerbread house making! This is always fun (albeit a little messy and sickening to the stomach). This year we attempted a small replica of Elsa's castle – which wasn't structurally as sound as it needed to be, but boy did it taste great!
5.

Planning session with Mr Kingsley. This is a bit of a favourite for me. With young kids there isn't always a lot of time or energy left at the end of the day to spend quality time together, but we always make sure we set one night aside where we just talk about the next year. We discuss holidays, life goals, and reconnect so we are on the same page for the year to come.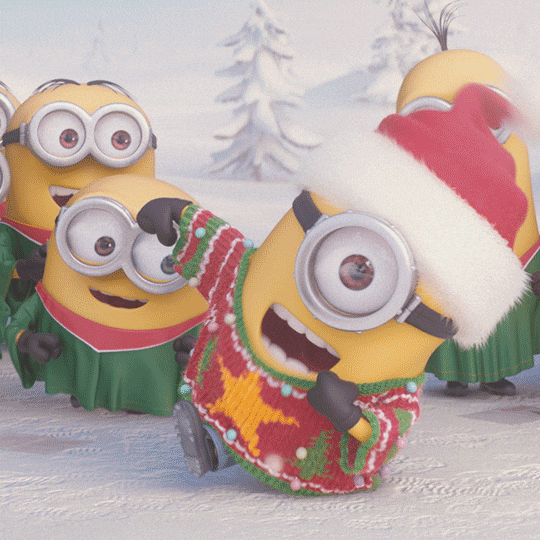 Image courtesy of Giphy.com
How about you? What are your family Christmas Traditions? Are they steeped in history or newly formed? Please let me know in the comments.
(Using Google Chrome as your browser will enable you to leave comments.)
I love to love...

Christmas!
I love to laugh...

with my kids whilst making gingerbread houses
I love to learn...

new recipes that involve pumpkin and spice and all things nice